You only have a few seconds to make a first impression. Make it count!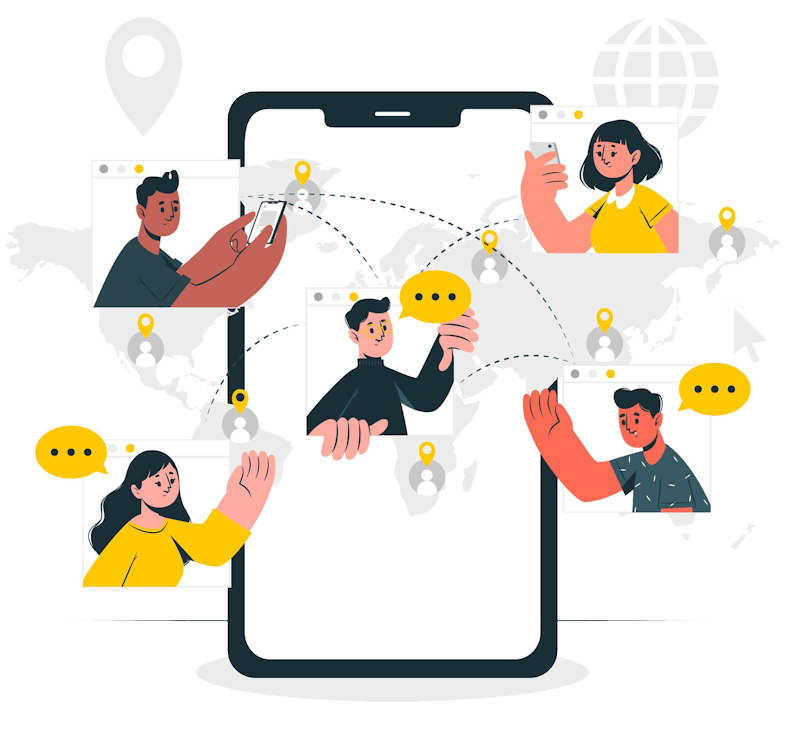 When it comes to making a first impression, you only have a few seconds to make your mark.
Create a free personalized introduction website to boost conversions.
In a world where first impressions matter more than ever, your introduction is your chance to make a lasting impression.
That's why it's important to have a hyper-personalized introduction website that tells visitors who you are, what you're all about, and what you can do for them. By taking the time to create a well-designed introduction page, you'll be sure to make a lasting impression on those who visit it.
A well-crafted introduction can be the difference between being ignored and getting the job, closing a deal, or networking with potential business partners.
Don't wait to start building your hyper-personalized introduction website today!
With a hyper-personalized introduction page, you will:
Immediately grab your visitor's attention and create a connection with them.
Dramatically improve your response rate.
Stand out from the competition by offering a unique and personalized introduction.
Increase leads and sales with little effort on your part.
Boost conversions by reducing the time it takes for visitors to understand what you do and how you can help them.
Improve the user experience for all of your visitors.
Connect with customers and visitors on a deeper level.
Create a unique and lasting impression for networking, business deals, and more
This is the feedback I often receive: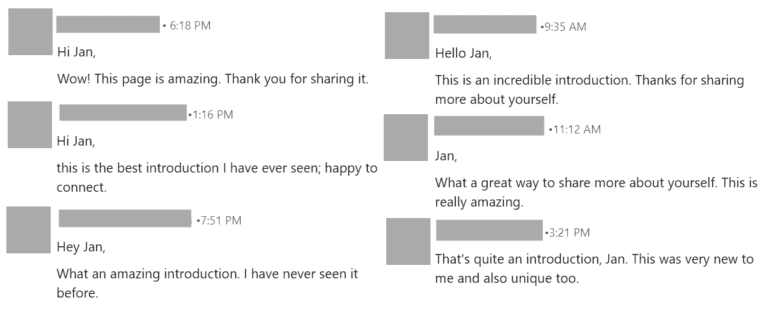 With a hyper-personalized website introduction, you can create an unforgettable first impression that will leave your new LinkedIn connections wanting to learn more about you.
Download a list of tools and plugins for FREE and create your fantastic introduction website today.
Hurry up, special launch offer is available for a limited time only!
I've shared my hyper-personalized introduction pages with more than 35,000 LinkedIn users and they've been incredibly effective!
Free eBook
Free list of WordPress plugins
Create Hyper-personalized Introduction
$50
$
25
One-Time Payment
Extended list of WordPress Plugins

21 pages of WordPress Plugins

How-To Videos (90 minutes)

BONUS #1: How to Save Time During LinkedIn Networking

BONUS #2: How to Personalized Images & GIFs

Lifetime Access (Read Terms)
🔥Special Launch Pricing! 🔥
You only have a few seconds to make a first impression.
So, make it count!
"Hi Jan, Wow! This page is amazing. Thank you for sharing it…"
– Thomas S.
"Hi Jan, this is the best introduction I have ever seen; happy to connect…"
– Jody K.
"Hey Jan, what an amazing introduction. I have never seen it before…"
– James F.
"Hello Jan, this is an incredible introduction. Thanks for sharing more about yourself…"
– Karolina J.
"Jan, what a great way to share more about yourself. This is really amazing…"
– Thomas N.
Didn't find the answer you were looking for?