Grow Your LinkedIn Network with Effective Connection Request Templates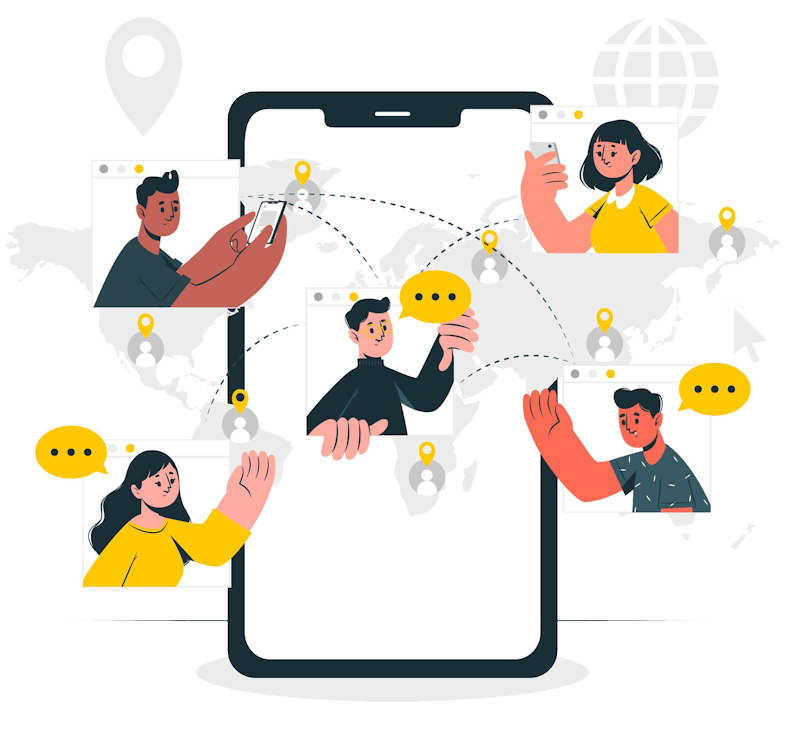 Are you tired of spending hours trying to craft the perfect LinkedIn connection request message, only to be met with radio silence? It's time to streamline your networking efforts and increase your chances of making meaningful connections.
Introducing 96 LinkedIn Connection Request Message Templates. These templates have been tested on more than 62,000 LinkedIn users and have proven to be highly effective at getting people to accept your request.
With these templates at your disposal, you'll no longer have to worry about coming up with the right words. Simply choose the template that best fits the situation, add in your own personal touch, and send. It's that easy!
Don't waste any more time trying to come up with the perfect message. Grab your copy of the 96 LinkedIn Connection Request Message Templates and start building your network today!
Staggering 98% of sales reps with 5,000 or more connections on LinkedIn meet or surpass their target quota.
Survey reveals that

85% of critical jobs are filled via networking.
⭐ Recruiter looking for new candidates?
⭐ Jobseeker trying to find new job?
Sales Professional looking for new leads?

Looking to expand your network?
In just 3 minutes you'll finally be able to...
  Improve your response rate

Automate your outreach like a Pro
✅ Save months of your time
✅ Stay ahead of your competition
Connect with more people in less time!
Hurry up, offer available for a limited time only!
Free eBook
Free 7 Effective iTemplates

How to Reply on LinkedIn Invitation
96 LinkedIn Connection Request Message Templates
96 LinkedIn Connection Request Templates

LinkedIn Networking Strategy

LinkedIn limits and how to overcome them
96 LinkedIn Connection Request Message Templates + 111 Helpful Email Templates You Can Use While Job Searching
$55
$
27
One Time Payment
111 Email Templates ($29 Value)

96 Effective inMail Templates

Template that got me 64.7% acceptance

LinkedIn limits and how to overcome them

BONUS #1: How To Reply To Connection Request
Join the 300+ Professionals Who Have Boosted Their LinkedIn Network with These Proven Connection Request Templates
I've tested hundreds of invitations on more than 62,000+ LinkedIn users and have found the best ones that will make people accept your request. In this document, you will learn how to use my templates to get the most out of your LinkedIn connections.
You could spend hours crafting the perfect message for each potential connection, or you could use one of my templates and get almost the same results.
These templates are designed to save you time and increase your chances of making a connection. They're packed with key phrases that have been proven to get results, so all you have to do is fill in the blank. Just add your own personality to the mix and you'll be good to go.
Extended version of Free eBook includes:
Intro

How to write compelling Invitations
Networking Strategy
Connection Templates
Most Effective Templates
Best performing Template

General LinkedIn Connections Requests

Simple connection request
General Pitch

LinkedIn Templates To Someone

working in the same industry
in the same group
who added comments on a post
who is posting interesting content
who has a mutual connection with you
who visited your profile
who recently changed jobs
who you want to build a new partnership
who was mentioned in the news/article/post
you consider a professional
who lives in a certain region
who follows your company
you met at a networking event
you want to work with
who graduated from the same school as you
Other LinkedIn Templates

Attracting clients by praising their work
Invitation templates for a webinar/event/podcast
A phone call template
A meeting request template
A hashtag LinkedIn template
Template for offering a free trial
Template for mentioning product benefits
To recruiter when you are looking for a job
Template (when they accept)
Template (when you accept)
Networking Is Important to Your Success
Reply To Connection Request Without Accepting or Ignoring
How can I improve my networking skills?
If you're looking for a way to improve your networking game, sign up for our newsletter, and during the next seven days, get the best LinkedIn networking tips that will improve your networking game!
We'll show you how to make the most of your network, how to find the right people to connect with, and how to stand out from the crowd.
So what are you waiting for? Sign up now and start networking like a pro!
Frequently Asked Questions
If you're a professional looking to grow your LinkedIn network, this ebook is for you. In this document, you will learn how to use my templates to get the most out of your LinkedIn connections. With this ebook, you'll be able to take your career to the next level.
Most similar ebooks are like $99 or $97, or $89! What's the deal?
My goal is not only provide quality content but also make it affordable for everyone!
Why is this ebook so cheap?
Well, this is a launch sale so for the next few days you can get 27 USD (VAT not included).
But don't wait too long because once it goes up in price again.
Why should I listen to you?
My name is Jan Tegze and I am a recruiter, blogger, trainer, speaker, and book author. I have over 18 years of experience in full life cycle recruiting with extensive knowledge about networking and job search.

I have one goal in mind: to provide quality content that will help you achieve your career or networking goals.
You can learn more about me on my LinkedIn profile. 
Do I get lifetime access?
You can download it 10 times from your account and you can have this ebook for an entire lifetime. It's yours and it won't stop giving back!
Is there a refund policy?
This is a digital content that you download and it's yours, so there is no refund policy. You should download the free ebook to see how the content will looks like. But feel free to reach out anytime!
Didn't find the answer you were looking for?